Pieces of Me
Single
Released
June 29, 2004 (U.S.)
September 27, 2004 (U.K.)
Genre
Pop/Rock
Length
3 min 37 sec (album track)
Record label
Geffen Records
Producer
John Shanks
Professional reviews
Launch.com (U.K.)
7 out of 10 stars
Oct. 1, 2004
Manchester Online
3 out of 5 stars
Sept. 17, 2004
Ashlee Simpson singles
Pieces of Me
Shadow
"Pieces of Me" is a Top 40 song by the American singer Ashlee Simpson that hit airwaves in the United States in mid-2004. The first single off Simpson's debut album, Autobiography, it is an upbeat blend of pop and rock with lyrics about finding comfort and happiness in a relationship with a new boyfriend.
About the song
Edit
The recording of "Pieces of Me" features in the fourth episode of Simpson's reality show, The Ashlee Simpson Show, and was inspired by Simpson's relationship with the musician Ryan Cabrera, a friend with whom she became romantically involved. As she says on the show: "I'm writing a song called "Pieces of Me", and it's about Ryan." In one interview, she said that "Ryan's my best friend, and he's the only one who gets me. After a long day, he'll come over and I forget about everything else."1 She also called Cabrera her inspiration for the song in the thank you section of Autobiography's liner notes. The song's lyrics express the comfort she finds with him: "It seems like I can finally rest my head on something real," she sings. Regarding Cabrera's reaction to the song, she has said: "I think he said, 'Ohhh, baby you're so cute' and gave me a big hug. He was so excited." [1] (Somewhat ironically, the two were reported to have broken up in August 2004, while the song was still high on the charts, because of their busy schedules, but they are still sometimes seen together.) In one interview, Simpson, describing the song as a "full-throttle rocker", said: "it's a feel good song, it's easy to listen to and every time I perform it or listen to it or whatever, ... it just feels good." [2]
"Pieces of Me" was written by Ashlee Simpson, Kara DioGuardi, and the album's producer, John Shanks. Jeff Rothschild played drums on the track, Shanks played guitars and bass, and Simpson and DioGuardi did background vocals.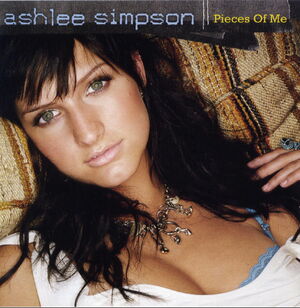 "Pieces of Me", the second track on Autobiography, began receiving widespread radio play in the U.S. in May 2004, well before the album's release on July 20. According to an article in the Los Angeles Times, 97 stations added "Pieces of Me" (described as "a breezy single") to their play lists in the week ending on May 17, which it said was the strongest week for any single in 2004 at that point in the year. [3] The song debuted on the Billboard Hot 100 at number 61 in June 2004. [4] Eventually, it reached a peak of number five on the Hot 100 in September 2004, [5] after 12 weeks on the chart, and remained in the top 50 on the Hot 100 chart until November 2004. It also reached number one on the Billboard Top 40 Tracks chart. The single was certified gold in October 2004 [6] and then platinum in January 2005. It was the 36th best selling single in the U.S. in 2004.
The U.S. CD single, released by Geffen Records on June 29, 2004, includes the album version of the song as well as an instrumental. On the cover, Simpson has dark hair, and the artwork is similar to that of the album Autobiography; however, an earlier, promotional version of the single shows Simpson on its cover with blonde hair, wearing a yellow jacket. This promotional version of the single includes only one track, "Pieces of Me" itself.
Simpson has described her excitement when she first heard the song on the radio:
"I was in L.A. and my sister heard me on the radio and was freaking out and called me so I turned on the radio in my apartment with my two best friends and started jumping around and freaking out."2
The single was released in the United Kingdom on September 27, 2004, on two CDs; the first includes a David Garcia & High Spies remix, and the second includes remixes, a medley of snippets of songs from Autobiography ("Shadow", "Autobiography", "La La", and "Better Off"), and the "Pieces of Me" music video. "Pieces of Me" debuted at number four on the UK Singles Chart for the week ending October 3. After this strong debut, however, the song fell quickly down the chart: to number 14 in its second week (ending October 10), to number 18 in its third week (ending October 17), to number 22 in its fourth week (ending October 24), to number 23 in its fifth week (ending October 31), to number 28 in its sixth week (ending November 7), and to number 35 in its seventh week (ending November 14), before finally falling out of the top 40 in the week ending November 21. [7]
In Australia, "Pieces of Me" made its debut on the ARIA singles chart at number 14 [8] and reached number seven in its seventh week on the chart, in September 2004, staying there for two consecutive weeks; [9] it eventually fell out of the top 40 in late November 2004. In New Zealand, the song made its debut on the RIANZ top 40 singles chart at number 33 in September 2004 [10] and rose slightly to number 32 in its second week. [11] It fell to number 36 in its third week, however, [12], before falling out of the top 40 in its fourth week.
In Germany, "Pieces of Me" reached number 26 on the singles chart, [13] and in Austria it debuted on the singles chart at number 43 and reached a peak of number 15 in its sixth week. [14] In Switzerland, it debuted at number 17 on the singles chart and reached a peak of number 11 in its third week, in October 2004. [15] In Italy, "Pieces of Me" reached a peak of number 24 in October 2004, in its fourth week on the top 50 singles chart, having risen greatly from number 47 in its third week. [16] It eventually fell out of the top 50 in November, after seven weeks on the chart. In Denmark, the song debuted at number five on the top 20 singles chart and reached its peak of number 4 in the next week, [17] after which it fell off the chart; in Sweden, it reached a peak of number 31 on the singles chart, [18] while it Norway it stayed on the top 20 singles chart for 12 weeks, reaching a peak at number three in its fifth week.
"Pieces of Me" is track 16 on Now That's What I Call Music! 17, a compilation of popular music that was released in the U.S. on November 2, 2004.
Critical reviews
Edit
IGN.com said of the song in its review of the album that it "lopes along to a feel good melancholic guitar strum while [Simpson] waxes like any lovelorn 19-year old would about the current love of their life." [19] Another review said that the "stringy" guitar riffs in "Pieces of Me" were "simple, yet effective", with the "catchy chorus bringing the song to life." [20] According to one review of the album, Simpson's singing on the track goes from "impassioned wail to innocent cooing ably."3 A U.K. review of the single called it "palatable" "as guitar-led lipstick confessionals go". [21] It has also been described as a "perfect choice" for the album's first single, having "a tempo between fast and slow, with hints of both throughout the song." [22]
On television
Edit
The Ashlee Simpson Show does not shy away from displaying the difficulties and problems Simpson has on her path to a career in music, and the recording of "Pieces of Me" in episode four (which is titled "Valentine's Bummer") is no different. As she is in the studio singing the line "Then the phone rings, I hear you," her voice stumbles at "hear you", and she says: "Damn it! I don't know why I keep on messing that up." Since this episode as a whole is focused on Simpson's relationship with Cabrera (which had only recently begun: the previous episode shows the beginnings of romance developing between them), the song's recording ties into its general theme, and it concludes with "Pieces of Me" playing over a variety of clips of Simpson and Cabrera together, as well as footage of Simpson singing the song in the studio.
Since "Pieces of Me" became Simpson's first single, it also features at points later in the show's eight episode first season. In episode seven, she has trouble while rehearsing the song and gets into an argument with her father, Joe Simpson, who is also her manager, who tells her: "It's your single, and you better get it right." Ashlee becomes frustrated and responds by mocking him, but then she explains: "of course I love my song 'Pieces of Me'". Later in the same episode, she sings "Pieces of Me" in concert at Summer Music Mania 2004 (and is introduced by her sister Jessica), but she is not happy with the performance and is left hoping that her next performance will go better (it does, although the next performance shown is not of "Pieces of Me" but of "La La"). Simpson also performs the song on The Tonight Show at the beginning of episode eight, and during an acoustic performance at Target House, a place for children with suppressed immune systems, later in episode eight.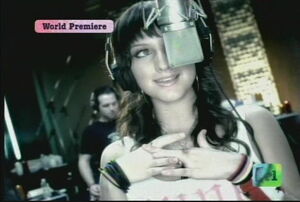 The music video for the song, directed by Stefan Smith, features Simpson singing in the studio (wearing a white shirt emblazoned with the word "punk" and a pink dress, but no shoes—she sometimes performs barefoot), surrounded by her band members playing their instruments. Clips of reality footage (The Ashlee Simpson Show debuted on TV in June, not long after the song hit radio) are interspersed throughout the video. The video is fairly simplistic, and when Simpson is going to film the more elaborate video for her second single, "Shadow", in episode seven of the show, she refers to the latter as her first "real" video.
Simpson has frequently performed "Pieces of Me" live, including a number of notable television performances. The Summer Music Mania concert took place on May 20 and aired on FOX on June 1. The Tonight Show episode in which Simpson sang "Pieces of Me" (followed by a brief interview with Jay Leno) aired on May 24, 2004, and Simpson also sang the song on The Late Show with David Letterman on July 16. She performed "Pieces of Me" (after a brief interview with Charles Gibson) on Good Morning America on July 19, the day before her album was released in the U.S. On July 27, she sang it (after an interview) on Ryan Seacrest's talk show, On Air With Ryan Seacrest, and on August 8 she performed "Pieces of Me" on the Teen Choice Awards; the song also received the "Song of the Summer" award. On August 29, Simpson performed the song during the pre-show for the 2004 MTV Video Music Awards (and immediately afterwards introduced the band New Found Glory, who played their song "All Downhill From Here").
The song made its debut somewhat later in the United Kingdom, where the album was also released several months after it was in the U.S. In September 2004, Simpson made several notable television appearances in the U.K. in which she performed the song, including on Top of the Pops (September 17), Top of the Pops Saturday (September 25), CD:UK and Popworld.
On October 24, 2004, she performed the song on Saturday Night Live as the first of two scheduled for that night, but when she began her second performance (of "Autobiography", the title track from the album), a recording of "Pieces of Me" could be heard playing before Simpson raised her microphone; from that point her band started playing "Pieces of Me", even though she had already performed the song earlier in the night, and Simpson finally left the stage awkwardly. Afterwards, she was criticized by some for what was seen as lip synching or singing over a backing track. The next day, she called in to MTV's Total Request Live to explain that she couldn't sing well that night because of her acid reflux, a medical problem which was also featured prominently on her reality show, so she was forced to perform with a backing track. Unfortunately, she said, at the beginning of her second performance the track for "Pieces of Me" was accidentally played again.
In a subsequent performance on October 25 at the 2004 Radio Music Awards, Simpson poked fun at the incident: "Pieces of Me" was heard playing initially, and Simpson worriedly looked around, saying "That's the wrong song", before smiling and telling the crowd "Just kidding, you guys!" and then beginning the song "Autobiography". She subsequently performed "Pieces of Me" (in addition to a performance of "La La") on Jingle Ball Rock, a television special on FOX featuring performances by a number of popular artists; it was taped on December 3 and aired on the evening of December 17. She also sang the song at the end of a concert broadcast live over the Internet on December 6 (although it was followed by an encore performance a few minutes later), and during it she pulled a member of the audience up on stage with her. Introducing the song, she said, "I'm gonna sing a song that hopefully you guys know. I wrote it about a boy named Ryan Cabrera. I wrote it actually whenever we first started dating; he was like my best friend, and so every time when I was recording my album he'd like come over and that made me feel better and stuff, and so I wrote a song called 'Pieces of Me' about him." Simpson later performed the song on Dick Clark's New Year's Rockin' Eve 2005, in which she also hosted the West Coast portion of the show.
Peak chart positions
Edit
| Year | Chart –Billboard (United States) | Position |
| --- | --- | --- |
| 2004 | Adult Contemporary | 30 |
| 2004 | Adult Top 40 | 4 |
| 2004 | The Billboard Hot 100 | 5 |
| 2004 | Top 40 Mainstream | 1 |
| 2004 | Top 40 Tracks | 1 |
| Year | Chart (United Kingdom) | Position |
| --- | --- | --- |
| 2004 | The UK Singles Chart | 4 |
| Year | Chart (Norway) | Position |
| --- | --- | --- |
| 2004 | Top 20 Singles | 3 |
| Year | Chart (Denmark) | Position |
| --- | --- | --- |
| 2004 | Top 20 Singles | 4 |
| Year | Chart (Switzerland) | Position |
| --- | --- | --- |
| 2004 | Top 100 Singles | 11 |
| Year | Chart (Austria) | Position |
| --- | --- | --- |
| 2004 | Top 40 Singles | 15 |
| Year | Chart (Italy) | Position |
| --- | --- | --- |
| 2004 | Top 50 Singles | 24 |
| Year | Chart – ARIA (Australia) | Position |
| --- | --- | --- |
| 2004 | Top 50 Singles | 7 |
| Year | Chart – RIANZ (New Zealand) | Position |
| --- | --- | --- |
| 2004 | Top 40 Singles | 32 |
References
Edit
Adams, Patty. YM, "The Sister Who Rocks". September 2004, pages 112–117.
944, Volume 3, Issue 8, page 75. Interview.
Burns, Todd. Stylus, Autobiography album review. July 21, 2004.
Community content is available under
CC-BY-SA
unless otherwise noted.