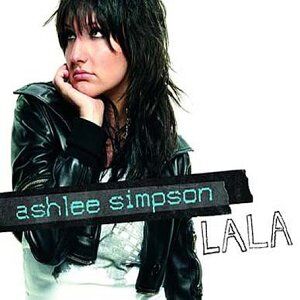 "La La" is a song by Ashlee Simpson from her 2004 album Autobiography. In the U.S., it began its run as the album's third single on radio and television in November 2004; in the United Kingdom (where it is the second single), a CD single was released in January 2005. "La La" was certified gold by the RIAA in late March 2005. [1]
"La La", the fourth track on Autobiography, was written by Ashlee Simpson, Kara DioGuardi, and John Shanks, the producer of the album. Jeff Rothschild played drums on the track, Shanks played guitars and bass, and Simpson and DioGuardi did background vocals. The track is three minutes and 42 seconds long. [2]
The song was not initially planned as the album's third single. In October 2004, fans chose "Autobiography" as the next single via Internet poll. However, following Simpson's Saturday Night Live incident, "La La" was chosen as the third single instead.
Following its release as a single in the U.K. on January 24, 2005, "La La" debuted at number 11 before falling. In Ireland, it debuted at number 18 on that country's chart in late January and stayed there in the next week. In February, the song debuted at number 10 on the Australian singles chart (where it stayed in its second week) and at number 98 on the Billboard Hot 100. "La La" is also currently being used as the backing music for a ThermaSilk shampoo commercial in heavy rotation on NBC television.
"La La" is perhaps the most rock-oriented track on Autobiography, and has been described in a BBC review of the album as "energetic". [3] Another review called it a "punk inspired, fast beat, screaming anthem". [4] Reactions to the song have been mixed however: People magazine called the song "insipid" in its review of the album1, and All Music Guide said that Simpson was "trying way too hard to be sexy". [5] Rolling Stone said the song casts Simpson "as a barely legal temptress", and said "ironic or not, it's creepy."2 Billboard was more positive, saying that "La La" (in which it said Simpson was a "frisky bad girl") was one of the songs that could "keep Autobiography on the charts in the foreseeable future."3 The BBC review, mentioned above, named the song as one of those on the album that it regarded positively, and another review said Simpson "summons a credible pop-punk sound" on "La La". [6]
The lyrics to the song are quite sexual, with "la la" being used as a euphemism for sex and a reference to Simpson dressing up as a French maid included. However, Simpson has described the lyrics as tongue-in-cheek: "It was one of those songs where every silly thing that was sexual that I could think of I put into the song."4 In an appearance on MTV's Total Request Live (a top ten music video countdown show) on November 18, Simpson said light-heartedly about the song, during an interview with Carson Daly, that "you can take it how you wanna take it."
In one interview, Simpson said of the song:
"Another song, 'La La' is flirty and very sexy. It's very tongue in cheek; it can be interpreted in all different ways. It's about sexual fantasies. There's a lot of sarcasm in that song. It's something every girl thinks about, so I decided to make a joke about it. It's one of the songs you can dance around to. Actually, I wrote it because I was singing la la and it was kind of a little dance that I was doing around the room. I didn't have a song on my record that was like sexy. So I thought, I'm a girl and I'm feminine and I can be sexy, so here it goes." [7]
Performances of "La La" featured twice in the first season of The Ashlee Simpson Show, Simpson's reality show, which aired in the U.S. on MTV from mid-June to early August 2004: she performed the song during her first live show in episode six, and again at the end of episode seven.
The music video for "La La", directed by Joseph Kahn, debuted on AOL's "First View" on November 22 and on MTV's Making the Video on November 23; the making of the video was also seen on the second season of The Ashlee Simpson Show in February 2005. Following the video's premiere, "La La" debuted on the TRL countdown on December 1, 2004.
The video takes place in a suburban setting and was filmed in Huntington Beach, California. Simpson is seen singing the song, dancing on top of a car, in front of a donut shop, and laying on a couch playing a skateboarding video game, all during daylight. The video continues with a late-night party around a swimming pool, which gets broken up by the police, and then Simpson and the crowd head to a laundromat, where the partying continues. Simpson's two best friends, Lauren and Stephanie, appear alongside her in the video. In Making the Video, Simpson compares the video to the 1982 movie Fast Times at Ridgemont High.
The making of the video is also featured in episode three of the second season of The Ashlee Simpson Show.
November 18: Simpson performed the song on Total Request Live.
December 6: Simpson performed "La La" as an encore at the end of a concert at the El Rey Theatre in Los Angeles, California, which was shown live on the Internet by AOL.com.
December 17: Simpson performed "La La" at the beginning of Jingle Ball Rock.
December 31: Simpson performed the song on Dick Clark's New Year's Rockin' Eve 2005, in which she also hosted the West Coast portion of the show.
January 4: Simpson performed at the Orange Bowl halftime show, receiving "a discernible chorus of boos" according to the Associated Press. The lyrics she performed during this show had to be changed due to their sexuality, with a reference to "lemonade" replacing "French maid", for example.
January 7: Simpson performed the song on Top of the Pops.
January 8: Simpson performed the song on CD:UK.
January 12: Simpson performed the song on Today with Des and Mel.
January 15: Simpson performed the song on Top of the Pops Saturday.
January 16: Simpson performed the song on Popworld.
Catalog 2103875

La La
Endless Summer
Pieces Of Me (29 Palms Remix Vocal Mix)
La La (Video)

Catalog 2103876

La La
La La (Sharp Boys Remix)
| Year | Country | Chart | Position |
| --- | --- | --- | --- |
| 2005 | UK | Top 40 Singles | 11 |
| 2005 | Ireland | Top 40 Singles | 18 |
| 2005 | Australia | Top 50 Singles | 10 |
| 2005 | United States | Hot 100 | 86 |
| 2005 | United States | Hot Dance Music/Club Play | 6* |
*Sharp Boys/F. Garibay Mixes.
The numbers below should be turned into chart format.
4 weeks: 98—89—86—96
10—10—10—10—13—17
11—20—28—30—53—73
Community content is available under
CC-BY-SA
unless otherwise noted.