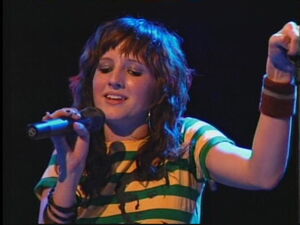 Ashlee Nicole Simpson (born October 3, 1984) is an American singer and actress. She rose to prominence in mid-2004, when her first album, the now triple platinum Autobiography, debuted at number one in sales, accompanied by a successful reality show, The Ashlee Simpson Show. In early 2005 she embarked on a successful two-month North American tour, and her second album is planned for release in October 2005. She is also the younger sister of the pop singer Jessica Simpson.
Early career
Edit
Simpson, the daughter of Joe and Tina Simpson, was born and raised in Texas, where she was home-schooled by her mother. While her sister Jessica, four years older, displayed an early talent for singing, Ashlee danced from the age of three and was admitted to the School of American Ballet in New York City at age 11.
After her sister Jessica signed a record deal, the family moved to Los Angeles, California, where Ashlee began auditioning for television commercials—her first commercial was for the department store Kohl's.1 Jessica achieved success in pop music in 1999 with her song "I Wanna Love You Forever" and the album Sweet Kisses, and Ashlee became a backup dancer in Jessica's concerts. She also appeared in an episode of the TV sitcom Malcolm in the Middle and had a minor role in the 2002 movie The Hot Chick, a comedy starring Rob Schneider. Simpson played the character Cecilia on the television show 7th Heaven from 2002 until the beginning of her singing career in 2004, at which point she stopped regular appearances.
Music and film
Edit
In 2003, Simpson recorded a song, "Just Let Me Cry," for the soundtrack to the movie Freaky Friday, and also signed a record deal with Geffen Records. She recorded an album, Autobiography, released in the U.S. on July 20, 2004. It debuted at number one on the Billboard 200 chart and was certified triple platinum in September 2004. The single "Pieces of Me" preceded the album, was one of the most widely-played songs in the U.S. in mid-2004, and sold well internationally. The next single, "Shadow", was less successful and not released in the U.K. The U.K.-sourced "La La" single followed in 2005.
Simpson and her music career were the subject of The Ashlee Simpson Show, a successful reality show on MTV. She had previously appeared on Newlyweds, an already successful reality show about the married life of Jessica and her husband Nick Lachey, and The Ashlee Simpson Show aired in the subsequent time slot. The show ran in the U.S. for eight weekly episodes from June 16 until August 4, 2004, and dealt with the process of writing, recording, and performing, and with aspects of Simpson's personal life. The first episode of the second season aired in the U.S. on January 26, 2005.
Simpson performs live with a backing band, which consists of Ray Brady (guitar), Braxton Olita (guitar), Zach Kennedy (bass guitar), Lucy Walsh (keyboards and vocals) and Chris Fox (drums). On September 29, 2004, she announced on her website that the band would be named "Ashlee Simpson and Submission," taking the name from the fact that they had received so many submissions of proposals for the name. Her manager is her father, Joe Simpson.
At the August 8, 2004 Teen Choice Awards show, Simpson received the "Song of the Summer" award for "Pieces of Me," as well as the "Fresh Face" award. She performed "Pieces of Me" during the pre-show for the 2004 MTV Video Music Awards on August 29, and during the actual show she presented an award with Tony Hawk for "Best New Artist in a Video." In December of the same year, she won a Billboard Award for New Female Artist of the Year.
Ashlee and her sister Jessica recorded a duet of the Christmas song "Little Drummer Boy" together for Rejoyce, a 2004 Christmas album by Jessica; they sang the song together during "Nick & Jessica's Family Christmas", a variety hour special which aired on ABC on December 1. [1] Ashlee also sang "Christmas Past, Present, and Future" on the 2004 holiday album Radio Disney Jingle Jams.
Simpson has a role in the upcoming movie Undiscovered (which was originally called Wannabe), which began filming in November. She cut her hair shorter for her role as Clea, an aspiring actress and "tomboy". The Lions Gate film is directed by Meiert Avis and is described as a "romantic comedy". [2] She was shown talking about the film on its set in a segment on Total Request Live on November 30.
Style and personal life
Edit
Ashlee has a somewhat more rebellious and rock-oriented image than that of her sister. Previously blonde like Jessica, she dyed her hair dark during the recording of the reality show (in the fifth episode), after she had finished filming for 7th Heaven. Ashlee's songs also have rock elements absent from her sister's music. Her vocals, while generally not thought to equal her sister's range, have been praised by some as fitting the style of her music, and are sometimes described (positively or negatively) as raspy.
Simpson often wears shirts with "punk"-style designs and typically has her fingernails painted black. She has refused to discuss her sex life, in contrast to Jessica, who openly stated her intention to remain a virgin until marriage. "I decided that I didn't want to talk about that because it's super personal," she has said.2 Ashlee also got a tattoo of a star on her left wrist after the release of her album.
Simpson's relationship with Josh Henderson, who had previously appeared on Popstars 2, lasted about two years and ended during the first episode of The Ashlee Simpson Show. Soon she began her relationship with Ryan Cabrera, a musician who also released his debut album in 2004; this relationship also featured in the reality show (particularly in episodes three and four of the first season), and Simpson appeared in the music video for Cabrera's song "On the Way Down" as Cabrera's love interest. The two were reported to have split up in August 2004 due to their busy schedules, but they were still sometimes seen together in the months that followed, and in the first episode of the second season of The Ashlee Simpson Show, Simpson indicated that they had resumed their relationship. In October 2004, they did a series of concerts at high schools together, and this was shown in the second episode of the reality show's second season.
By around February 2005 they had apparently broken up again, and Ashlee was referring to herself as single while on her tour, which began in February and ended in April. Ashlee also has a dog named Blondie (named because she loves Deborah Harry, of the band Blondie), which was given to her by Cabrera.
Simpson and her sister Jessica were tied for third on Mr. Blackwell's list of the worst-dressed celebrities of 2004. Blackwell wrote that "from gaudy to grim to downright frenetic these two prove that bad taste is positively genetic."
Saturday Night Live incidentEdit
Simpson appeared on Saturday Night Live as a musical guest on October 24, 2004. As is customary for musical guests, she was scheduled to give two performances, the first of "Pieces of Me" and the second of "Autobiography." As she was beginning the second performance, however, a recording of "Pieces of Me" started playing before she raised the microphone. Simpson, uncertain of how to react, danced nervously (as she later called it, a "hoe-down") and then left the stage. After an emergency commercial break, she appeared again during the show's closing with the guest host of the night, Jude Law, and apologized, saying that her band had started playing the wrong song. Others, however, criticized her for what they saw as evidence that she was lip synching.
On Monday, October 25, Simpson called in to Total Request Live, a widely-viewed U.S. top ten music video show, and explained that she had been having trouble with her vocal cords due to acid reflux and could not sing well, and thus had no choice but to perform with a guide track. For the second performance, Simpson said that her drummer had hit the wrong button and consequently the wrong track played.
Prior to the incident, Simpson expressed her distaste with lip synching in an interview with Lucky magazine: "I'm totally against it and offended by it. I'm going out to let my real talent show, not to just stand there and dance around. Personally, I'd never lip-synch. It's just not me."
During the October 25, 2004 Radio Music Awards broadcast, Simpson made fun of the SNL mistake by pretending at first to be caught in the same mistake with "Pieces of Me" as before, before saying "Just kidding, you guys!" and going into a performance of "Autobiography." On the morning of October 26, she discussed the incident with Katie Couric on The Today Show, and on October 31, the CBS news program 60 Minutes aired footage from Simpson's rehearsals before the SNL performance, in which she was shown having trouble with her voice and being visibly upset.
On January 4, 2005, Simpson performed "La La" at the halftime show for the Orange Bowl in Miami, Florida. When her performance was finished, many of the 72,000-plus spectators booed. [3] Various explanations for the booing have been suggested: that it may have been a belated reaction to the SNL incident, a distaste for Simpson's singing (some claimed that her voice during the performance was poor and off-key), or simply dissatisfaction with the half-time show as a whole.
In January, an Internet petition complaining about Simpson's singing was among the most active of the site's petitions. [4] Simpson later said about the petition that "an 18-year-old girl started it, and that's cool. You don't always have to be a fan of everybody's music." She also mentioned the support she has received from her "amazing fans". [5]
Simpson began her first U.S. headlining tour on February 16, 2005, in Anaheim, California, [6] and it ended in Grand Prairie, Texas on April 20. (See List of 2005 concerts.) During the tour, she has performed three cover songs in addition to her usual Autobiography songs: The Pretenders' "Brass in Pocket", Blondie's "Call Me", and Madonna's "Burning Up". Her opening acts are Pepper's Ghost and The Click Five; she performs a generally consistent setlist, beginning with "Autobiography" and ending with "La La", then returning to the stage to sing "Pieces of Me" in a white dress as an encore. She has also included the unreleased song "Hollywood" in her setlists. In a TRL appearance on February 7, in which she talked about the tour prior to its start, she said that she planned to work on her next album with her band while touring, and that the next album might be released around Fall 2005. Elsewhere, she said that the tour would be "stripped down", without pyrotechnics, and that "it's going to be me and my band getting out there and having fun." [7]
Simpson was on the cover of the February 2005 issue of Cosmopolitan magazine, [8] and she was chosen as its "Fun Fearless Female of the Year". [9]
In March 2005, Simpson stated that she would like incorporate the feel of '80s music on her second album, and that it would focus less on relationships and more on herself. She also said that she wanted to do another television show, but that The Ashlee Simpson Show would conclude at the end of its 10-episode second season. [10]
Just before the end of the tour, she said she planned to take a seven-day vacation after the last show and then begin working on her next album.
On April 24, 2005, she appeared in an episode of the MTV celebrity prank show Punk'd. She was the subject of a prank in which she was set up to think that her jacket had caught on fire due to being placed near a candle, causing the overhead sprinklers in the art museum she was in to go off, thus ruining the paintings in the room. She became upset when confronted about it, but then laughed and was playfully angry when the prank was revealed to her by the show's host, Ashton Kutcher.
In early May 2005 she showed off a new hairstyle, which was shorter with a reddish-blonde/light brown color. On June 19, she appeared at the MuchMusic Video Awards, where she performed "La La", with fully blonde (and longer) hair.
In late July 2005, Simpson said that the first single off her next album would be called "L.O.V.E.", and said that it is "just about me and my girlfriends going out, not needing a man in our lives". At this point the album was set to be titled In Another Life. [11] However, the title was soon changed to I Am Me, and the first single was changed to "Boyfriend". The album will also include two songs dealing with the SNL incident. I Am Me is planned for release on October 18, [12] and "Boyfriend" began picking up substantial radio play in early September.
Discography
Edit
References
Edit
Janelle Brown, Seventeen, "Ashlee Simpson". November 2004, pages 86–89.
Patty Adams, YM, "The Sister Who Rocks". September 2004, pages 112–117.
External links
Edit
Community content is available under
CC-BY-SA
unless otherwise noted.